Chrysalis - An 8 Week Self Guided Journey Home
$444.00 USD
Regular price
Unit price

/

per
Quantity selected exceeds current stock
Adding product to your cart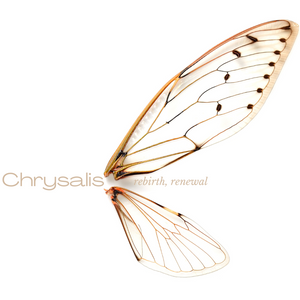 Please make sure if you want to track your package that you are choosing a trackable option. Not all options are trackable. We offer FREE local pick up, you can choose that option at checkout. Rates are approximations. Exact rates will be provided at checkout.
Your payment information is processed securely. We do not store credit card details nor have access to your credit card information.
Your security means everything to us. This website is encrypted. We take your security very seriously. All transactions powered by Shopify.
Description
Are you ready to finally emerge as the person you're meant to be?
The journey home to yourself is a spiritual one, it's a path of freedom. Mine started with someone saying to me,
you don't have to live like this
!
Freedom is a choice. Clarity is a choice. One that I never knew I could make because I was so conditioned to live life for others. When I was asked, "What do I really want out of life?" I couldn't give an answer, I could tell you what I didn't want, and that's what I was giving all my energy to. The problem. Whatever we focus on expands. I was more focused on the problem. Everyone else, what "they did" or said that life just gave me more evidence of the same. Whatever we are looking for, we will always find. The question becomes where is your attention? On creating a beautiful future, or reliving a disappointing past?
The mind becomes very loud.
When the mind is left unchecked, it can be a noisy and distracting place. The mind itself is a great tool, but it's also an obstacle depending on who is guiding us, the other voices within our heads. 
But what if you could break free from these limiting beliefs and rewrite your story? What if you could tap into your inner power and unlock your full potential?
Chrysalis is a revolutionary program designed to help you silence the noise in your mind and rediscover your true self. Guided through 8 weeks of powerful techniques and exercises, videos and audio, Chrysalis helps you break free from limiting beliefs and unleash your inner power.
You'll learn how to:
Identify and challenge your limiting beliefs
Harness the power of your subconscious mind
Cultivate a growth mindset
Develop resilience and grit
Build unstoppable confidence
Take action and achieve your goals
Chrysalis is not just another self-help program. It's a transformational journey that will change the way you see yourself and the world. It's a journey of self-discovery and self-mastery, where you'll learn how to take control of your thoughts, emotions, and actions and create the life you truly desire. Don't let the noise in your mind hold you back from living your best life. 
If you're ready to take my hand,  sign up today for immediate access!
All are accessible from your own private dashboard.
Learn, listen and grow on the go with our new audio files (it's like having this course on audible.)

Private community of support off of social media, accessible right from the dashboard.

Enjoy all the benefits of the last live Masterclass with all of the live trainings from Amanda and experts like Mel Robbins, Dr Joe Dispenza's head trainer, John Assaraf and more.
Questions
At Worthy Wands, we pride ourselves on offering jewelry that goes beyond the ordinary. Our commitment to excellence shines through in the unique benefits our jewelry provides:
Unmatched Durability: We handcraft all our necklaces using medical-grade stainless steel, a material renowned for its exceptional resistance to tarnish and rust. This means your jewelry will retain its stunning appearance for years to come, no matter the conditions. All our pieces are also hypoallergenic so will not cause any kind of skin reactions.
Waterproof Brilliance: Thanks to our cutting-edge Physical Vapor Deposition (PVD) Coating, your jewelry is sweatproof, waterproof and remains tarnish free even when exposed to water. So dive into all of life's worthy adventures without hesitation.
What is PVD Coating: Think Superior Gold Finish PVD Coating bonds strongly to metal, surpassing regular gold plating. It offers lasting brilliance, durability, and eco-friendliness.
No Green Skin, Only Gold Shine!
Green is for plants, smoothies, and money – not for your skin! Our jewelry is designed to keep your skin free from any green discoloration, rust, or fading. With our jewelry, you'll never need to take it off.
All our gold jewelry is crafted with genuine 18K Gold PVD (Physical Vapor Deposition), a vacuum coating process that produces a brilliant and enduring finish. PVD employs titanium nitride, ensuring an exceptionally durable coating that's highly resistant to corrosion from sweat and regular wear, far surpassing the durability of gold plating.
We love surprising people with our products!

We offer a hand-written note service at check out. Just let us know what you'd like written on your card in the notes section at check out, and we'll include it.It's the perfect way to make your gift extra special and remind your loved ones how truly loved and supported they are.
Our bracelets aren't just beautiful accessories - they also have a unique neuro-healing effect. By creating positive connections and new neural pathways in the brain, our bracelets can help retrain your brain to work for you, not against you. The more you wear them, the more powerful their effects become.
When you purchase one of our products, you're not just acquiring an item—you're activating confidence and self-love. Each product comes in its own pouch for gifting or storage, and each product contains an empowerment card that activates magic within you.
Our new Metal Collection neurohealing bracelets come with an Audio Affirmation: Upon purchase, you will receive a digital file. We believe in the transformative power of words, so we've prepared a unique affirmation for each bead on your bracelet. These affirmations are not just written; they're also recorded, making it easier for you to internalize their positive energy.

We believe that self-love is a journey, and we're here to support you as you discover your true potential.