Worthy AF Flower Essence
$40.00 USD
Regular price
Unit price

/

per
Quantity selected exceeds current stock
Adding product to your cart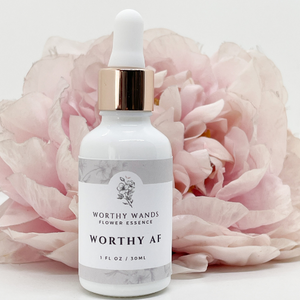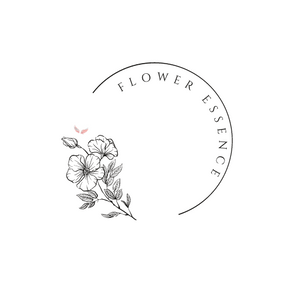 Please make sure if you want to track your package that you are choosing a trackable option. Not all options are trackable. We offer FREE local pick up, you can choose that option at checkout. Rates are approximations. Exact rates will be provided at checkout.
Your payment information is processed securely. We do not store credit card details nor have access to your credit card information.
Your security means everything to us. This website is encrypted. We take your security very seriously. All transactions powered by Shopify.
Description
Put better words in your mouth. 
A vibrational natural healing remedy from the wildflowers of English, Canadian, and Californian countrysides. 
Flower essences are considered a form of vibrational medicine. 
Vibrational tinctures carry the imprint of the particular pattern, energy, or "essence" of a flower. Every flower has a different healing quality and they act as catalysts for change at a deep emotional level. 
Flower essences are not to be confused with essential oils; the two are quite different. Since flower essences are energetic, they do not contain a scent. They are taken internally in the form of liquid drops under the tongue. 
They are natural, non-toxic, non-habit-forming, and can be combined with other treatments. However, it is still a good idea to consult your health care practitioner if you have a medical condition and/or are taking medications.
While using flower essence, you are connecting with nature, your guides, and your higher self on a spiritual level. Don't be surprised if you start to gain clarity about your life's purpose while using flower essences. 
Flower essences work on an energetic level to address the underlying emotions and release unwanted patterns. It works with your vibrations, so anything that doesn't match the vibration of the remedy simply goes away.
Negativity is no longer an energetic match because you've raised your vibration. 
For example, if you are experiencing feelings of unworthiness and lack of confidence, and you start using our WORTHY AF blend, you'll feel more confident, have a radiant sense of self, your self-awareness is magnetized, and the feeling of self-doubt dissipates. 
Benefits:
Worthiness

Self-love

Self-confidence

Calmness

Positive thoughts and beliefs

Abundance

Manifestation

Self-acceptance

Alignment with one's inner power and truth

Release of guilt and shame
Instructions:
Take 4 drops, 4 times a day under the tongue separately from meals.

Use

regularly and consistently

until the bottle is empty.

The effects of flower remedies are cumulative and must be taken as directed to feel the benefits. 

The essences need to gently dig their way into one's psyche to unfold their full potential.

This is a

one-month supply

(30 mL) if taken as directed. 
How is it Made:
The blend was developed by Flower Essence Society Certified Flower Essence Practitioner, Barbara Schuster, who has been working with English, Californian, and Pacific essences for over 20 years. 
This remedy includes 7 essences that are handpicked to work specifically with self improving vibrations. Those essences are added to a base of distilled water and brandy, and are alchemized especially for Worthy Wands in a 30 mL serving.
*This product is not intended to diagnose, treat, or prevent any disease(s). Flower essences are safe, non-addictive, and have no side effects. There are no fragrances, dyes, flavours or preservatives added.
Consider getting the reprogramming guide to go even deeper, and shed even more layers.
Questions
At Worthy Wands, we pride ourselves on offering jewelry that goes beyond the ordinary. Our commitment to excellence shines through in the unique benefits our jewelry provides:
Unmatched Durability: We handcraft all our necklaces using medical-grade stainless steel, a material renowned for its exceptional resistance to tarnish and rust. This means your jewelry will retain its stunning appearance for years to come, no matter the conditions. All our pieces are also hypoallergenic so will not cause any kind of skin reactions.
Waterproof Brilliance: Thanks to our cutting-edge Physical Vapor Deposition (PVD) Coating, your jewelry is sweatproof, waterproof and remains tarnish free even when exposed to water. So dive into all of life's worthy adventures without hesitation.
What is PVD Coating: Think Superior Gold Finish PVD Coating bonds strongly to metal, surpassing regular gold plating. It offers lasting brilliance, durability, and eco-friendliness.
No Green Skin, Only Gold Shine!
Green is for plants, smoothies, and money – not for your skin! Our jewelry is designed to keep your skin free from any green discoloration, rust, or fading. With our jewelry, you'll never need to take it off.
All our gold jewelry is crafted with genuine 18K Gold PVD (Physical Vapor Deposition), a vacuum coating process that produces a brilliant and enduring finish. PVD employs titanium nitride, ensuring an exceptionally durable coating that's highly resistant to corrosion from sweat and regular wear, far surpassing the durability of gold plating.
We love surprising people with our products!

We offer a hand-written note service at check out. Just let us know what you'd like written on your card in the notes section at check out, and we'll include it.It's the perfect way to make your gift extra special and remind your loved ones how truly loved and supported they are.
Our bracelets aren't just beautiful accessories - they also have a unique neuro-healing effect. By creating positive connections and new neural pathways in the brain, our bracelets can help retrain your brain to work for you, not against you. The more you wear them, the more powerful their effects become.
When you purchase one of our products, you're not just acquiring an item—you're activating confidence and self-love. Each product comes in its own pouch for gifting or storage, and each product contains an empowerment card that activates magic within you.
Our new Metal Collection neurohealing bracelets come with an Audio Affirmation: Upon purchase, you will receive a digital file. We believe in the transformative power of words, so we've prepared a unique affirmation for each bead on your bracelet. These affirmations are not just written; they're also recorded, making it easier for you to internalize their positive energy.

We believe that self-love is a journey, and we're here to support you as you discover your true potential.