Nine Lives Rescued: A Triumph Over Suicide

Our commitment to championing mental health and holistic well-being burns brighter than ever.
At Worthy Wands, we want you to know:
Your worth isn't something to seek – it's something you already possess. We exist to anchor in this truth.
Let our affirmation jewelry be a reminder that you are not just enough, you are more than enough. You are worthy of all the love, success, and happiness that life has to offer
Find your anchor
Tested, loved, and praised – our products speak for themselves!
A light went on inside of me

Something ignited inside of me when my son read me the card that accompanied the necklace. I was in a bad place before I started wearing it and when my son saw it still in its packaging, he asked why I didn't like it? He took it out of its pouch and a card fell out. He started reading it and he said - Dad, it says you are a Worthy Warrior, and when those words hit my ears something inside of me got activated. I haven't taken it off since that day.

Thank you for creating something so meaning for us men!

— 

Josh
My new favourite necklace

I have to admit I bought it as a gift, and kept it. Once I tried it on, it stayed on! I love how it looks, how it sits and how I feel wearing it!
It layers really well as well. Great quality and the note and the card that comes with, beautiful. I will buy it again and actually gift it the next time.


— 

Andrea.
I purchased a couple of necklaces and this Self Worth Meditation came as a gift which is very sweet and kind. I really enjoy listening to it and the empowering messages it holds about lifting any limiting beliefs which may prevent me from being the best version of myself and leaving my mark on the world around me. Amanda's voice is so soothing and calming and I truly believe that she is able to reach my subconscious mind with the beautiful affirmations in this meditation and as a result help change how I feel about myself and my worthiness.

— 

Gergana
Empower Yourself With Every Wear

The words on our pieces imprint positive beliefs into the subconscious mind without any effort or willpower.
Shop ALL
Elevate Your Self-Image
As you explore our collections, you'll find more than just jewelry; you'll discover transformational companions designed to elevate your self-image and nurture your self-esteem. Each piece is a testament to your worthiness and an invitation to celebrate your unique brilliance.
Join us in celebrating the extraordinary within you.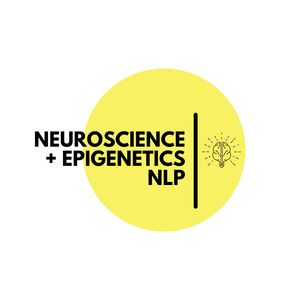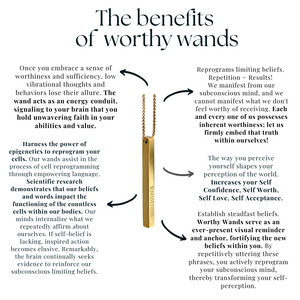 Elevating Positivity Through Science: Silencing Your Inner Critic, Product by Product!
Curious about the science behind it all? We invite you to explore the fascinating research that underpins our creations. From studies on subconscious programming to the profound impact of positive affirmations, you'll uncover the solid scientific foundation behind our Worthy Wands.
CHeck out the science
Nine Lives Rescued: A Triumph Over Suicide
Within the embrace of Worthy Wands, our hearts swell with humility and gratitude as we celebrate having contributed to saving nine invaluable lives from the clutches of suicide. Our commitment to championing mental health and holistic well-being burns brighter than ever.

Together, let's shape a positive narrative. #worthywands
Join the empowerment journey with us at @worthywands on social media! Share your moments of embodying your worth – we can't wait to witness your radiance!